IT Arena is Ukrainian and Eastern Europe's largest tech event for tech geeks, product managers, business analysts, entrepreneurs, and startup founders.
Each year Vector Software is a golden partner of IT Arena and 2023 is not an exception.
This year, the tenth edition of this remarkable event, surpassed all expectations by uniting a diverse array of 3364 attendees. Among them were tech professionals, marketers, company founders, startups, investors, media representatives, and more.
The President of Vector Software, Geir Myhre, was invited to give a speech at the main stage of the business track. Having a really huge business, IT specifically, experience, Geir shared practical advice and an overview on how to work with clients now considering financial turmoil combined with force majeure:
What clients are looking for;
Geir emphasized the importance of understanding what clients are truly looking for. In a rapidly changing tech landscape, it's crucial to stay attuned to clients' evolving demands and expectations.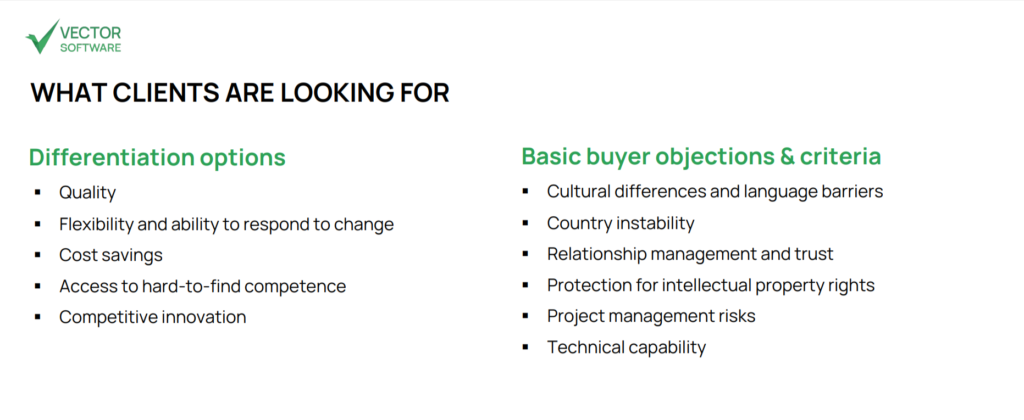 Typical client reactions to financial turmoil;
Geir delved into the typical reactions of clients when faced with financial turmoil: increased or decreased focus. Drawing from his experience, he shed light on how businesses can adapt and thrive during economic challenges. Recommendations: simply do whatever is necessary to preserve customer relationships, optimize overhead cost to meet increased competition from lower-cost outsourcing destinations, be able to scale down quickly and express value in terms of cost savings or risk reduction, and implement tight financial cash flow control. 
What happened in 2000 and 2007, and what is different today?
Looking back at the financial crises of 2000 and 2007, Geir drew comparisons and highlighted what makes the current situation different. Acknowledging what is similar, what is different, and what is next. This information can be valuable in crafting strategies for the present and future.
Financial turmoil combined with force majeure;
The combination of financial instability and force majeure events can be particularly challenging for businesses. Ukrainian IT business has adapted to unexpected issues due to such unstable situations as the Revolution of Dignity, the occupation of Crimea, COVID-19, and the full-scale invasion in 2022. By knowing its strengths and weaknesses, a business can develop successfully by choosing the right approach.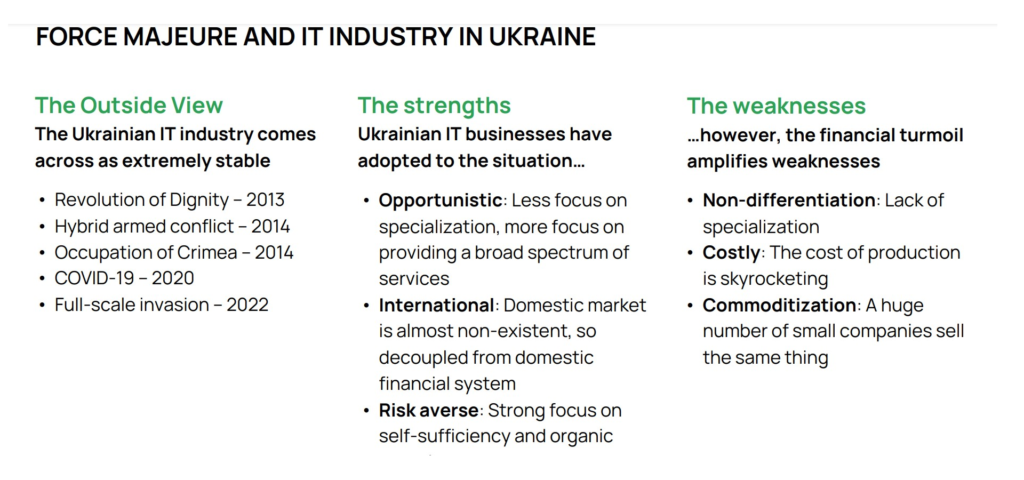 Possible responses and strategies to prevail;
The most typical clients' responses are: smaller clients are more or less unaffected, and larger clients are under pressure by boards to reduce risks. And clients' decisions in February 2022 were sometimes emotional, because of the strong support for Ukraine. 
Besides this, "country instability" is one of the most important factors when a client chooses an outsourcing operation. 
To recapitulate, the Ukrainian IT industry must further innovate and differentiate from competitors. Geir recommends using a unique combination of location, cultural understanding and language, and technical skills to package and offer higher-order value services that differentiate from other alternative outsourcing locations. 
Therefore, Vector Software's active involvement in the IT Arena reflects a commitment to nurturing Ukraine's tech ecosystem. Together, we ensure that the region's tech enthusiasts and professionals have a platform to learn, connect, and build a brighter future for Ukraine's tech industry.